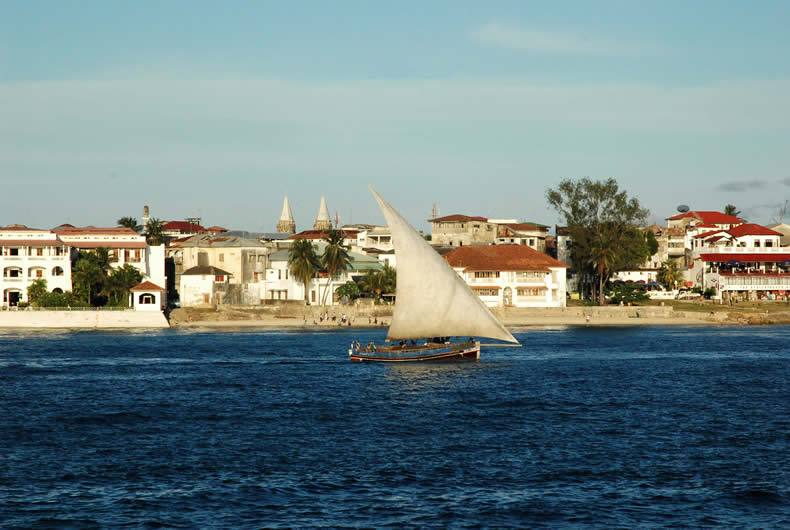 This Zanzibar Holiday Package combines underwater adventure with beautiful beaches and unique cultural insights. 
Mafia Island
has exceptional diving and scuba diving while Zanzibar has a vibrant Islamic culture and beautiful white sand beaches.
9 DAYS 8 NIGHTS ZANZIBAR & MAFIA
Day 1: Arrival day
We'll pick you up from Mwalimu Nyerere International airport and take you to New Avon Hotel for dinner and overnight. This is a great place to relax and recover from your journey.
Accommodation: New Avon Hotel.
Meals: Dinner.
Day 2: Dar es Salaam – Mafia
Morning pick up from your hotel and transfer to the airport for your flight to Mafia. On arrival you'll be met and taken to Mafia Beach Bungalows.
Accommodation: Mafia Beach Bungalow.
Meals: Breakfast, lunch & Dinner
Day 3, 4, 5:  Mafia
You've got four days to explore Mafia Island at your leisure and will probly want to sink into the water-based activities like snorkeling, diving or fishing.
Accommodation: Mafia beach bungalows.
Meals: Breakfast, lunch & Dinner
Day 6:  Mafia – Zanzibar
Fly from Mafia Zanzibar. On arrival in Zanzibar you'll be picked up and taken on a city, stone town and spice tour then taken to your hotel.
Accommodation: Nungwi Inn Hotel.
Meals: Breakfast & Dinner.
Day 7, 8: Zanzibar relaxation
Enjoy your time relaxing at the hotel and on the beach.
Accommodation: Nungwi Inn Hotel.
Meals: Breakfast & Dinner.
Day 9: Departure Zanzibar
In the morning after breakfast you'll leave Zanzibar by boat and head back to Dar es Salaam where you'll be picked up and transferred to the airport for your flight back home. You'll be feeling refreshed and relaxed after your time on Tanzania's spice islands with lots of wonderful stories to share with friends and family back home.
Mafia Beach Bungalow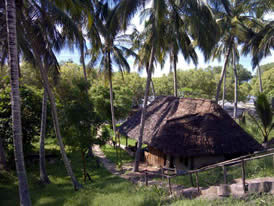 Mafia Beach Bungalows is located at Chole Bay in Utende Village a short drive from the harbour and airport.
Staying in one of these cute thatched bungalow is a true Mafia Island island experience.
The Nungwi Inn hotel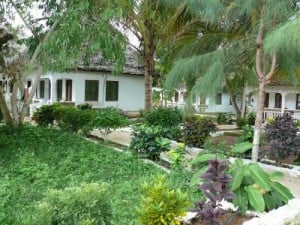 The Nungwi Inn hotel is in the outskirts of Nungwi village beach on the Northern West coast of Zanzibar. It sits on top of a coral ledge overlooking the Indian Ocean about 160 km from the famous Stone town and the airport.
The Inn has 15 bungalows facing the sea in a neatly designed village-like setting. The bungalows are the traditional Zanzibar design fused with Asian architecture. Each bungalow has two standard rooms joined by a long veranda where you can relax.
Package is inclusive of:
Mafia Marine fees;
Full board accommodation in Mafia and half board in Zanzibar;
Boat ride from Zanzibar to Dar Es Salaam;
Local flight   Selous – Mafia – Zanzibar;
All transfers.
Package is exclusive of: –
Tourist visas;
International Flights;
Insurance;
Alcoholic Beverages;
Tips;
All items of a personal nature.
Cost: $2,053 per person
BOOKING
To find out more or to book your Zanzibar holiday package please contact us or use our booking form. If you're dreaming of a Tanzanian safari or beach holiday we'll make it happen.
Phone: +255 (0) 737 213202
Mobile: +255 (0) 753 024590
Toll-Free: 1-866-228-1485
E-mail: [email protected]