Your Family Safari in Tanzania
As one of the country's few family owned  tour companies we understand how to plan a safari that keeps everyone happy. Yes, it is possible!
Whether you're a small family with preschool or school-aged kids, or an extended one travelling with grandparents, we'll make sure that your safari meets your wildest dreams.
We'll organise a private vehicle and guide for you and we've hand-picked the best safari properties for families. Some may offer special family rooms or interconnecting rooms, while others have special activities for kids or caring babysitters on hand so mum and dad can enjoy a quiet sundowner or evening meal while the kids play or sleep safely elsewhere.
Because everybody is different and we're 100% dedicated to making sure your safari is a success, please get in touch with us to talk more about your safari. Once we've found out how many of you are travelling, at what time of year and what your special interests or concerns are, we can design a safari to suit you.
There's no obligation to book with Daigle Tours when you make an enquiry but we'll be happy to advise you on the best places to visit and stay at to make sure your safari  becomes a cherished memory and part of your family folklore.
We might be a bit biased but Tanzania really is a fabulous destination for safaris, probably the best in Africa, because it's safe, the people are friendly, the wildlife is prolific and there are some amazing family-friendly places to stay.
Better yet, as well as visiting the wilderness and enjoying the quintessential African bush experience with your family, you can also extend your trip with a beach holiday on Zanzibar Island, where you can swim in the sparking Indian Ocean and play on the white sand beaches.
If beaches and island life sound good then you might like to explore Zanzibar  to experience the Islamic architecture, fabulous textiles and mouth-watering Swahili cuisine. Zanzibar has a totally unique culture so if you'd like to combine a traditional wildlife safari with a beach holiday and cultural experience, a  safari in Tanzania will deliver like nothing else.
And remember, when you choose Daigle Tours for your safari you get your own private vehicle and guide so you can decide how long you want your game drives to be, what time to leave in the mornings, and what time to head back to your camp or lodge for snacks, a siesta or a swim.
Like you Daigle Tours is a close family unit and we'll make sure that you have a fun, safe and highly memorable safari in Tanzania.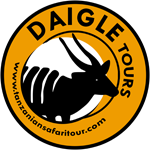 To find out more about our safaris or to make a booking please
contact us
or use our
booking form
. If you're dreaming of a
luxury safari
in Tanzania we'll make it happen.