Camping in Tanzania is one of the world's greatest outdoor adventures. People choose our camping safaris for different reasons. Some people are travelling on a budget and know that they are great value for money, others because they want to be immersed in nature and close to the wildlife.
Whatever your motivation, our expert team will make your safari experience the adventure of a lifetime. 
Imagine sitting around the warm, orange glow of a campfire in the heart of the African wilderness. Imagine hearing the roars of nighttime predators outside your tent and spending time under the vast expanse of African sky and stars. Those are the kind of experiences and adventures that you will only get when you camp.
Camping made easy
The biggest drawback to camping is all the equipment needed to make your experience comfortable and safe, but we'll take care of all that for you. When you book a safari with Daigle Tours we'll provide all the camping gear you need including a freshly laundered sleeping bag, sheets and mattress packed together in a dust proof bag so all you need to bring are your clothes and personal items.
We'll do all the hard work for you so you can relax and enjoy the experience. In general, your cook and guide will set up the camp at each new location although if you'd like to lend a hand you're more than welcome to help and enjoy a more active adventure. During the day, you'll be able to enjoy your safari and game drives while your experienced cook stays at camp preparing your freshly cooked evening meal so when you get back you can relax around the fire watching the stars and listening to the sounds of the bush.
Selous Camp
We now have our own exclusive lodge right next to the Matemere Gate in Selous. As it borders the Selous Game Reserve, it's not uncommon to see wildlife crossing through the camp! From our own camp, we can maintain the high standards we are renowned for and offer fly camping safaris with full backup into the Selous.
Itineraries
Any of our lodge safaris can be converted into camping safaris so you can choose the destination and time frame to suit you.
If you'd like to find out more about costs, simply choose your trip from the itineraries and let us know that you would prefer to camp. We will advise you of the price and provide you with a detailed itinerary.
All we need to know from you is:
When you wish to go;
How many days you want to spend on safari;
How many people are travelling with you;
Any specific park or reserve you wish to visit.
Remember that we can also design bespoke tours for you, so if there's a specific destination you'd like to visit or a different time-frame just let us know. Some of our guests choose to camp and then spend the last few days in a lodge, so that's another option if you'd like to experience different types of accommodation.
contact us NOW TO AVOID DISAPPOINTMENT
To find out more or to make a booking please contact us or use our booking form. If you're dreaming of a Tanzania camping safari we'll make it happen.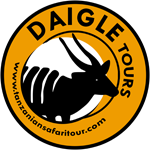 Want to find out more
about Daigle Tours
? For information about safari packages or to plan your bespoke safari
download our brochure here
or
contact us now
.