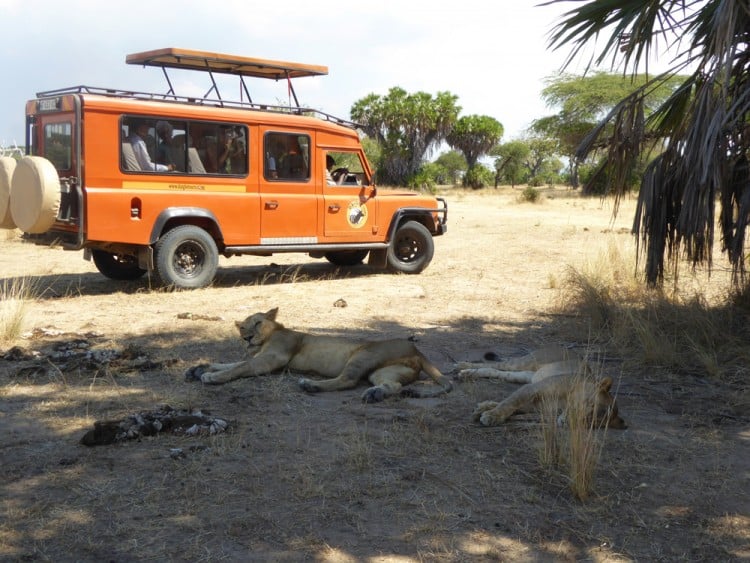 Dar es Salaam may not be the most popular place to start a safari in Tanzania, but it's probably the best. Tanzania's former capital city is one of Africa's greatest travel secrets because of its:
Easy access to some of the least crowded, and most rewarding, wildlife encounters in Tanzania;
Coastal location, near picture-perfect white sand beaches and exotic islands;
Unique Swahili culture, which means it offers some of the most interesting food, history and arts and crafts in Africa.
Furthermore, Dar es Salaam welcomes visitors but isn't crowded with them, unlike Arusha and the Serengeti which seem to be almost overrun with visitors throughout the year.
If you're planning to visit this is our pick of the top five safari destinations in Southern Tanzania.
1. Nyerere National Park
Nyerere National Park (formerly Selous Game Reserve) is the biggest uninhabited wilderness area in Africa offering an unparalleled bush and wildlife experience.
Wildlife
Selous is packed with animals including monkeys, antelope, bushbuck, sable, reedbuck, waterbuck and curly-horned greater kudu. On land, lion sightings are common and you can expect to see crocodiles and hippos in the river. You'll also have the opportunity to spot rare African wild dogs and plenty of elephants. Selous is one of only two places where you can witness the elephant migration when thousands of elephants pass through the reserve.
When to visit:
Dry Season from June to November – the best time for game viewing, with predators commonly seen and the elephant migration taking place.
Rainy Season from January to April – good birding opportunities in verdant bush but the roads often become impassable.
December to February – good game viewing but can be hot and humid.
2. Ruaha National Park
Ruaha certainly isn't the most famous national park in Tanzania but it is the biggest and the wildlife is fantastic. The scenery is also stunning and diverse including ancient baobab trees, green-fringed river and wetlands surrounded by rocky hills.
Wildlife:
Ruaha is located in a convergence zone for both northern and southern hemisphere birds and mammal species, so it has a huge population of birds and mammals. There's too much wildlife to mention here but it includes a sizeable lion population as well as wild dogs, leopard, cheetah, hyena, elephant and many different antelope species.
When to visit:
Try to time your visit during the dry season from June to October.
3. Mikumi National Park
The Mkata floodplain in Mikumi often draws comparison with the Serengeti because the wildlife is so concentrated, diverse and often see in large herds.
Wildlife:
You're likely to see a good sampling of wildlife such as buffalo, wildebeest, giraffe, elephant, lion, zebra, leopard, crocodiles, hippo, baboon, impala, hyena and more.
When to visit:
Wildlife is easiest to spot during the dry season from June to October, but wildlife sightings are almost guaranteed year round, and Mikumi is easily accessible on a day trip from Dar es Salaam.
4. Mafia Island
For a safari of a different kind, Mafia Island Marine Park draws deep sea fisher folk and scuba divers from around the world. Marine life is abundant, the coral is pristine and the Indian Ocean is warm all year round.
Wildlife:
Colourful tropical fish abound around the coral reef and spotting whale shark while you snorkel or dive is an unforgettable experience. Fishing with an experienced guide can allow you to catch sailfish, marlin, barracuda, wahoo, kingfish, trevally, tuna, dorado, snapper and rock cod as well as many other species.
On land, the bird spotting is good and there are also resident monkeys, squirrel, bushbabies and monitor lizards.
When to visit:
December to March and June to October are the best times for snorkelling, diving and fishing.
5. Saadani National Park
This is the only park in Tanzania which is located on the Indian Ocean and combines coastal forest with acacia woodlands, open grasslands, mangroves and sandy beaches.
Wildlife:
The birdlife is prolific and lion, elephant, giraffe, leopard and buffalo along with hundreds of other mammals can be spotted here. It's the chance to see wildlife on the beach which is totally unique.
When to visit:
January and February and from June to August are the best time to spot both mammals and migratory birds.
All these places offer an unforgettable, uncrowded safari experience and comfortable accommodation options. That's why the area of Southern Tanzania around Dar es Salaam is the first choice for locals and expats who want to go on safari. We recommend you visit soon to find out why for yourself.