ADVENTURE Safaris in Tanzania
If you're looking for a trip that's somewhere between high-end luxury and budget then our adventure safaris have been designed especially for you. Of course all our tours around Tanzania are an adventure, but our adventure safaris allow you to experience the best Tanzania has to offer, including many of the places we visit with our luxury guests, at a much lower cost while still making sure you enjoy a high level of comfort.
Depending on what time of year you plan to visit Tanzania and what type of safari you'd like to experience we can advise you on the best tour for you and your fellow adventurers.
Everyone has a different idea about what their safari will include but we can organise almost anything you'd like to experience, from a boat trip past hippos on the Rufiji River to spending a night under canvas with wildlife all around you.
Those are just a few of the many adventure activities but here's a checklist for you to think about and consider what you'd most enjoy:
Wildlife viewing from our comfy safari vehicles;
Night time game drives;
Star-gazing around a campfire;
Hiking up mountains, to waterfalls or tracking chimpanzees;
Walking safaris;
Kayaking;
Snorkelling, scuba diving or fishing;
Hot air ballooning;
Cultural visits to local villages or tribes.
So where's the best place to visit? Tanzania's a big country with diverse scenery, wildlife and people but Serengeti and Ngorongoro Crater are world famous destinations so many of our guests rightly want to head there, in particular during the annual wildebeest migration period which is a truly incredible experience.
Many of our guests enjoy their first Daigle Tours safari so much and get a taste for Tanzania that they come back again. Other guests simply want to avoid the crowds and get off the beaten track in which case there are a range of possible destinations depending on what you want to see and experience, from rhinos in Mkomazi to chimpanzees in Gombe.
Selous, Mikumi and Ruaha National Parks also stand out because they are easily accessible from Dar es Salaam with its international airport and offer amazing scenery and wildlife with far fewer visitors which will heighten your sense of adventure.
No matter your age, fitness or what your idea of adventure is there's an amazing safari awaiting you in Tanzania.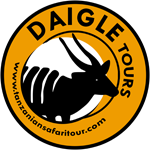 To find out more about our  safaris or to make a booking please
contact us
or use our
booking form
. If you're dreaming of a luxury safari in Tanzania we'll make it happen.