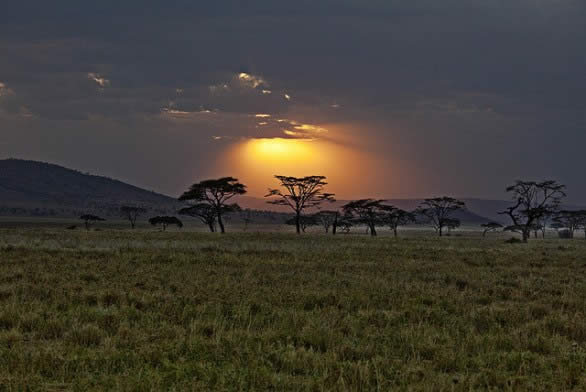 Tanzania is full of so many things to do and see. Deciding which national parks or wildlife reserves you want to visit on your safari can be a daunting task. Here are the top five National Parks in Tanzania that you absolutely cannot miss!
1. Serengeti National Park
Serengeti National Park is one of the most incredible places to view wildlife, and every year it features the Great Migration, a truly magnificent sight. Millions of hooves  thunder across the plains as enormous herds of wildebeest are joined by zebras and gazelles on this exodus to find fresh grazing. There is no better place for seeing the famous Big Five or any other wildlife than Serengeti National Park.
2. Ngorongoro Conservation Area
The Ngorongoro Crater is often called the Eighth Wonder of the World. It is the largest intact volcanic caldera on the planet, and is a fantastic place for enjoying amazing vistas
and incredible wildlife. Amazingly, all the large predators that Africa is famous for can be found in this ten-mile-wide crater. This makes it the best place to view these elusive
carnivores.
3. Tarangire National Park
Tarangire is a fascinating place in which to view the circle of life. The Tarangire River draws huge herds of animals to its banks during the dry season. Prey and predator can be
seen together pawing at the dry riverbed in search of the moisture below the surface. It is one of the best places to see matriarchal family groups of elephants.
4. Saadani National Park
If you are looking for a tropical beach vacation, then Saadani National Park is the place to go. Pristine beaches are overshadowed by gently waving palm fronds in this beautiful park. Saadani is the only national park in Tanzania to have a coastline on the Indian Ocean.
Be careful when you're catching rays, though. You may find yourself sharing the beach with a lion or an elephant!
5. Mahale Mountains National Park
The Mahale Mountains National Park is a breathtaking place. It is located on the shores of Lake Tanganyika and has the best chimpanzee viewing in all of Africa. You can
enjoy the incredible vistas and calls of the chimpanzees from one of the most notable safari camps in the world, Greystoke. This luxurious camp will have you reminiscing
about legendary great white hunters in the African wilderness as you enjoy your safari adventure.
It's impossible to see and do everything in Tanzania with only one safari. This is why many people return again and again. There are so many parks to visit, each with their
own unique beauty. Start planning your trip today, and enjoy one of these top five places to visit!