Welcome to Daigle Tours – Tanzania's finest family owned and family-friendly Safari Company
If you're planning a dream safari you've come to the right place! You've probably heard of Tanzania but you may not know that it's the best place for your safari. Well, we might be a bit biased but we're not alone! Experienced travellers seem to agree because it was recently voted the top safari destination in Africa in a poll of over 1,000 safari lovers. 
So we're excited about organizing your safari and guiding you when you're here because we've got a feeling it won't be long before you love it almost as much as we do.
How can Daigle Tours help you?
Our main office is in Dar es Salaam which means we can easily access the lesser known safari parks in the South and East of Tanzania and we have a base in Arusha so we can guide you around the more popular Northern Circuit including migration safaris, Serengeti National Park and Ngorongoro Crater.
We'll do all the hard work of organizing and coordinating your safari adventure so you can relax and enjoy the experience. We can advise you on the best time to plan your safari, where to go to view the wildlife migration and how to get a rich cultural experience when you visit.
We've designed a range of safari itineraries to make it easier for you to plan your trip but we can also create customized safaris and itineraries to fit your wishes. Please don't be shy. If there's something in particular you'd like to see or a special place you'd like to visit just let us know and we'll bend over backwards to create a unique adventure for you.
Once we've helped you pick the best safari for you we'll organise every element of your trip and give you a detailed itinerary so you know what you've got to look forward to. Then all you need to do is buy your flights to Tanzania, take out travel insurance and pack your bags.
When you arrive we'll be here to meet you at the airport and take you to your first hotel or help you transfer to a more remote destination. From the moment you step foot in the country you'll be part of the friendly Daigle Tours family and we'll be taking special care of you.
Which safari is best for you?
Our tours range from three to fourteen nights but if that's not long enough you can add on one of our extensions so you can spend longer here and visit Zanzibar Island, Mafia Island or majestic Mount Kilimanjaro.
If you pushed for time then you'll love our day trips from either Arusha or Dar es Salaam which allow you to experience national parks, wildlife, cities or beaches in a single day.
Why Daigle Tours will make your visit special
Tanzania locals John and Anita Daigle set up Daigle Tours in 2010 because they wanted to help people have the best safari experience in the world. We know your safari might be a once in a lifetime opportunity so we want to make sure it exceeds your expectations. We set the bar high by choosing the best safari vehicles, hiring the best guides and doing everything possible to give you the personal service you deserve.
Anita was born here and met her Canadian husband John here. Our experienced tour guides were all born and raised in Africa and have a deep understanding of Tanzania's wildlife and culture and a passion for sharing it with visitors.
All our Daigle Tours guides are highly experienced and carefully selected because they're not only true professionals, highly knowledgeable about wildlife and conservation but also have the X factor which will make your safari fun. We maintain a strict training schedule for our guides that focuses on guest safety, wildlife knowledge and language training then we encourage them to share their personal stories and let their personalities shine.
During your trip your guide will share their personal and professional experiences and knowledge with you as you travel together round any of the main safari areas, including the Northern Circuit, Southern Circuit, Eastern Circuit and Western Circuit.
Although the Northern Circuit remains the most popular destination, and most safari companies are based there, we can also access some of the more remote wilderness areas if you wish so you can experience the full range of diversity that Daigle Tours and Tanzania has to offer.
Selous Camp
We now have our own exclusive lodge right next to the Matemere Gate in Nyerere National Park. As it borders the park, it's not uncommon to see wildlife crossing through the camp! From our own camp, we can maintain the high standards we are renowned for and offer fly camping safaris with full backup into the Selous.
1o reasons to book with Daigle Tours
A worry-free adventure! Let us take care of all the details and provide you with a personal tour consultant to plan your Daigle Tours safari. Our package deals can include all travel arrangements, accommodation bookings, park fees, migration or game drives, visits to a local Masai village, hot air balloon tours and even cultural craft center visits. We'll take care of all the details and eliminate the planning pressure, enabling you to experience and enjoy your safari to the max.
Safaris to suit your budget, from luxury, to midrange adventure or camping safaris.
Competitive fixed pricing so you know exactly how much your safari will cost with optional extensions like a trip to Zanzibar Island or Mount Kilimanjaro.
Detailed information about your safari with documents you can print out or download onto you mobile devices including a detailed itinerary, a list of items to bring along and other useful information to help your plan your safari.
Hassle free transfers around Tanzania. We'll book and coordinate your domestic flights, any additional accommodation needed and airport transfers.
Local knowledge and experience to adapt to seasonal changes, animal movements, and your personal preferences. So if you're after a custom safari experience our unique ability to personalize your trip makes us the perfect tour operator for you.
Top of the line safari vehicles and equipment. While lesser safari companies cut costs by sending guests out in old, tired vehicles we're obsessed with safety and totally committed to making sure our guests are comfortable in our vehicles as we drive you along rough roads in search of wildlife and adventure.
Access to all the best national parks so you have a wide choice of destinations for your safari. We can't wait to offer our advice but the final choice is yours because it's all about you, when we plan and design your tour.
The best accommodation to suit your personal preferences and budget. We've carefully selected the best accommodation and we've got all the best options covered so you can choose what's right for you: luxury or private camps, mid-range lodges, permanent tented camps, mobile or camping safaris.
Amazing guides who go out of their way to make your safari as special as you are.
help us help you now
To find out more or to make a booking please contact us as early as possible or use our booking form. If you're dreaming of a safari we'll make it happen.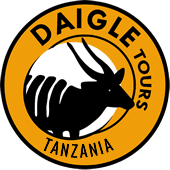 DAIGLE TOURS COMPANY LIMITED
P.O. Box 75302
Mji Mwema, Kigamboni
Dar es Salaam, Tanzania
Phone:     1-866-228-1485
Phone:     +255 (0) 737 213202
Mobile:     +255 (0) 753 024590
Email:       info@daigletours.com
View our listing on www.safaribookings.com