Safaris in the Eastern Part of Tanzania
The eastern portion of Tanzania contains Mkomazi and Sadaani National Parks. These are the newest national parks in Tanzania and so are less visited than the parks in the rest of the country. They are more private and secluded than other parks and are rife with specialties that can be found nowhere else. They are well worth a visit!
Sadaani National Park is the only place where you can encounter some of the larger species of wildlife while wandering down a sandy beach. It is the smallest of the safari circuits.
The rhinoceros sanctuary in Mkomazi National Park is one of the most interesting places to visit. Reaching it is nothing more than a swift detour en route from Arusha to the Indian Ocean around Tanga and Pangani.
The newest of Tanzania's national parks is Mkomazi. The rhinoceros sanctuary is own of the countries crown jewels and features a growing population of wildlife. The park lies between the mountains and the Indian Ocean.
Saadani is the only park in which the beach meets the bush. It is the only wildlife sanctuary in East Africa with a beach front on the Indian Ocean, and it possesses beautiful tropical coastline that is popular with sunbathers. Just keep in mind that you may find yourself soaking up some rays with a few lions!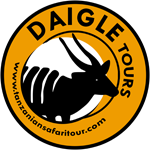 Want to find out more about Tanzania safaris with Daigle Tours? For information about safari packages or to plan your bespoke safari
download our brochure here
or
contact us now
.