Luxury Safaris in Tanzania
When you book a luxury safari in Tanzania with Daigle Tours you'll experience the ultimate in personal service, with exclusive accommodation and world class safari guides. We work closely with guests like you to  design a safari specifically for you.
Like you, our directors John and Anita Daigle are discerning travellers who enjoy experiencing the very best on offer when they travel. Because they live in Tanzania, they've stayed at or visited  private and exclusive lodges and camps all around the country, picking and choosing the ones they like best  for a special experience.
So what makes our safaris so special? It's a combination of elements that takes a visit to Tanzania to the highest level, and our safaris aren't about spending more, but about getting the best possible value from your trip.
We understand that you're a busy person and that your safari may be a once in a lifetime opportunity, so we'll go out of our way to make it memorable. Many of our guests are celebrating milestone birthdays or anniversaries, and if that's the case for you please let us know and tell us a bit more about the people involved.
If there's a specific experience you'd like to enjoy like staying in a tree-house, glamping,  visiting Zanzibar or taking a sunrise hot air balloon trip, let us know and we'll do our best to make it happen.
Our tours are about authenticity, and making sure you experience true local flavours, experiences and cultural insights, so we've hand-picked a selection of small, exclusive luxury camps and lodges where you can escape the tourist crowds. Your safari will allow you to experience the wildlife, wilderness and natural beauty of Tanzania without any distractions.
You'll be guided by one of our safari guides in your own private vehicle which is specially equipped for your comfort. All our guides are highly qualified and experienced, so they'll spot the wildlife you miss and tell you all about it. We'll make sure your trip is packed with adventure, excitement and fun, so it won't be long until you feel like one of the Daigle Tours family.
Want to find out more? If you're dreaming of a safari in Tanzania, tell us what you want and we'll organise it for you. Let us know what your idea of luxury is and we'll make it happen.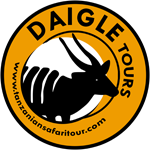 To find out more about safaris or to make a booking please
contact us
or use our
booking form
. If you're dreaming of a safari in Tanzania we'll make it happen.