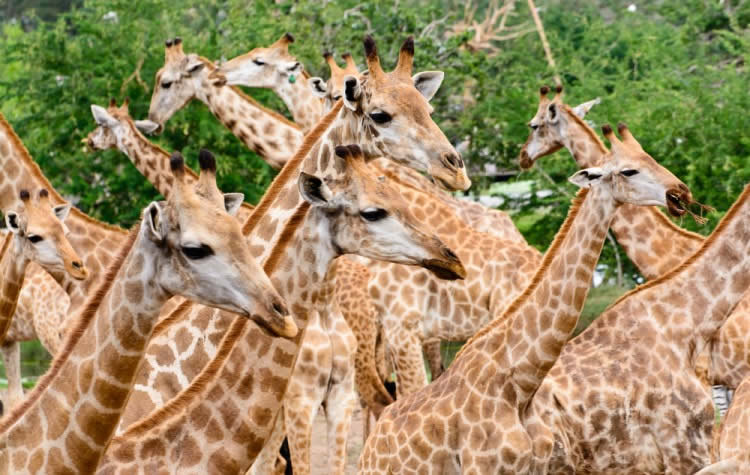 Though Tanzania is filled with beautiful landscapes and exotic wildlife, you will rarely find as wide a diversity of topographies and animals as you will in Arusha National Park. It may be one of the smallest parks in Tanzania, but Arusha is full of amazing sights.
One of the most striking features of the park is Mount Meru. This volcano rises to an elevation of 4566 meters, and its slopes are covered in rich volcanic soil that supports lush forest and all of the birds and animals that call the trees home.
Arusha is known for its diversity of wildlife. Elephants, giraffe, and hippopotamus are some of the larger herbivores that you will see as you explore the park. They are stalked by leopards and hyenas that skulk in the shadows, waiting for the perfect moment to strike. Baboons and colobus monkeys play in the canopy while hundreds of species of birds flit from branch to branch. The park supports all of this life and more.
Aside from Mount Meru, Arusha National Park boasts two distinct and incredible topographical marvels. The southeast of the park is dominated by the Ngurdoto Crater.
This crater consists of rich grasslands that feed some of Africa's most distinctive herbivore species.
The northeast of the park is home to the Momella Lakes. These shallow bodies of water are alkaline. They are popular places for bird watchers and nature photographers. Algae in various hues adds color to the lakes along with the flocks of wading birds that call the waters home. It is a paradise for anyone looking to capture beautiful pictures or just enjoy nature.
Arusha National Park is the perfect place to visit if you are craving a variety of activities. It is a great place for a wildlife safari because of the diverse wildlife. It is also the only place where the colobus monkey is easily viewed. If you are looking for even more rigorous activity, then Mount Meru is a fun climb and boasts fantastic views of the surrounding landscapes.
No matter what you are looking to do on your safari vacation, Arusha National Park is a great place to visit because of its diversity. The park will give you great views of landscapes and wildlife, and you will have a fun time experiencing all that a Tanzania safari has to offer in this stunning park.